Don't cry because it's (almost) over. Smile because you won't have to keep getting annoyed every time you realize that this movie has both a colon AND a dash in its title, which is just completely bananas. 
JENNIFER LAWRENCE at the London premiere
gown by Christian Dior
At first I was sure Elizabeth Banks would take the top spot in this post, such is the power of her red carpet ferociousness. Then I noticed the strip of skin beneath J.Law's hand, and realized this camera angle was missing the true magic of this gown:
DESTROYING. SLAYING. KILLING ME SOFTLY WITH SIDEBOOB. Oh my god, the pose, the chains, the bedroom eyes – I am here for ALL OF IT.
JENNIFER LAWRENCE at the Hand and Footprint Ceremony in Hollywood
top and skirt by A.L.C., shoes by Stuart Weitzman
By far her best hair of the press tour so far. This is just the right amount of casual cuteness for a daytime event that requires you to put your hands and feet in cement. (Also, yes, she wore Stuart Weitzmans in wet cement. The life of a celebrity is filled with luxuries beyond compare.)
JENNIFER LAWRENCE at the Berlin press conference
dress by Proenza Schouler
Good enough for a press conference, where it's kind of gauche to get too fashionable. But also, I think I want to burn those shoes in a fire.
JENNIFER LAWRENCE at the Berlin premiere
gown by Christian Dior
Ah, yes, because we all want to look like our sleeves are bursting from the girth of our sausage-like upper arms, right? (Note: no body-shaming here; Jennifer's arms are flawless and would be at any size. But the cut-outs in that location were just a truly terrible idea.) Oh, and whose idea was to take one of the world's most beautiful 25-year-olds and dress her up like a desperate post-menopausal has-been? Not cool, Team Dior. Not cool.
ELIZABETH BANKS at the Berlin premiere
gown by Elie Saab
Maybe it's strange to get sentimental about such things, but I am a little sad the Hunger Games ride is nearly over, not just as a fangirl but as a fashion blogger. It is because of the Hunger Games press tours that I have come to worship Elizabeth Banks as a red carpet icon. Playing a role like Effie Trinket encourages you to pull out all the stops on the red carpet, and Elizabeth has brought some of Effie's love for bold colors and sparkly fabrics to her wardrobe for every film's press tour. It's been three and a half years since she rocked this bright orange Elie Saab gown at the first film's Berlin premiere, which was the moment she went from "hm, she's worn some great stuff this week" to "goddess of all things fashion," in my estimation. And my love for her fashion choices has only grown.
TL;DR: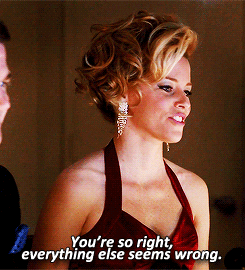 ELIZABETH BANKS at the London premiere
coat by Razan Alazzouni, purse by Edie Parker, shoes by Casadei
Too many starlets are more worried about wearing things that are pretty than things that inspire. Don't get me wrong, there are some gowns that are both pretty and interesting (the one before this is a good example), but it's so refreshing when someone hits the red carpet looking AMAZING in something that you can't even really explain. If you told me that my beloved E-Banks would hit a Hunger Games premiere in some sort of stiff full-length coat that also might have been tucked into her pants, I probably would have given you some pretty serious side-eye. But here she is, and she looks incredible, so I'll just sit over here and go fuck myself.
TL;DR:
JENA MALONE at the Berlin premiere
gown by Reem Acra
When Jena Malone joined the cast in the second film, we got a constant source of coolness and funk on the red carpet – her outfits don't always make sense, but they are always surprising, and that's a more important achievement than any other, at least from the perspective of someone who has to come up with shit to say about said outfits. (I should mention that I wrote this little portion before I actually saw a photo of this look, so I'm patting myself on the back because it's a fairly spot-on description of this outfit in particular.) I've loved Jena since I first saw Saved! as a high schooler, but again, it was these press tours that made me love her on the red carpet, same as Elizabeth. I have the Hunger Games franchise to thank for that. Any-tangent, from afar, I'm mostly loving this, despite the fact that it's more than a little bit ungapatchket, which is basically Yiddish for "holy crap, did a Party City explode all over your dress?" But let's keep zooming:
I'm all for sideboob – and not just Jennifer Lawrence's sideboob – but I don't enjoy how unfinished everything looks up close, particularly that weak-ass side strap. It really gives the appearance of "this rope is all that stands between you and my boobies" rather than, "aren't I just stupid glamorous and fascinating and fashion-forward?"
NATALIE DORMER at the London premiere
gown by Ong Oaj Pairam
Love the print, love the drama. It might be just a bit too much fabric for her – or at least, a bit too much fabric that doesn't hang in precisely the right places – but this is still divine.
NATALIE DORMER at the Berlin premiere
gown by Roland Mouret
Nope. That's a table runner from the 70s, not a red carpet gown. Sorry, dear.
SAM CLAFLIN and LAURA HADDOCK at the London premiere
Sam's suit by Dolce & Gabbana; Laura's gown by Burberry
An impossibly beautiful and delightful couple. #relationshipgoals to the max. They look as in love as two people can possibly be.
GWENDOLINE CHRISTIE at the London premiere
gown by Vivienne Westwood, shoes by Christian Louboutin
I hate the fabric tied around her waist – it's got a used tissue quality to it that is extremely unsettling – but it's hard for me not to love Brienne of Tarth, whether she's in armor or sequins. In those Louboutins, Gwendoline is at least 6'5″, every inch of it oozing glamour.
WILLOW SHIELDS at the Berlin premiere
gown by Marni, purse by Rodo
Oh my God, when did Prim become a grown-up?! (Okay, okay, I googled it and she's actually only 15. But still. They grow up so fast!)
LIAM HEMSWORTH at the Berlin premiere
suit by Ermenegildo Zegna
In a word: yum. In six words: I want to lick his beard.
LIAM HEMSWORTH at the London premiere
suit by Isaia
He could put in a little more effort, but honestly, if I looked like this, I'd give no fucks about my wardrobe either. Who's really looking at the clothes, rather than the delicious hunk of man inside them?
JOSH HUTCHERSON at the Berlin premiere
Poor little Peeta, always looking like he's playing dress-up in his father's clothes.
JOSH HUTCHERSON at the London premiere
Can someone just let Josh and Liam know that they don't have to only wear black, navy, and charcoal suits? There's a world of options out there! Like… light gray! And… uh…. medium blue! Seriously, though, let's live a little, boys.
JULIANNE MOORE at the London premiere
dress by Alexander McQueen
By a long shot, the biggest disappointments of this press tour have been J.Moore's wardrobe choices. She's hit-or-miss to begin with, but I can usually find something worth drooling over in her wardrobe. Not this week. This was her best effort, and it makes her look like a British cupcake with boring shoes.
JULIANNE MOORE at the Berlin press conference
Listen, there are days when I would just love to leave the house while still wrapped in a comforter. But I am a grown-ass adult, so I keep that shit at home. So should Julianne.
JULIANNE MOORE at the Berlin premiere
gown by Jason Wu
A dress that's boring AND ugly? Congratulations, Julianne – you've found the holy grail of red carpet shit that I hate.
Check back soon for the Second Batch of looks from the Hunger Games premieres! (Because I can't call the posts "Part 1" and "Part 2" when "Part 2" is in the absurdly unwieldy title of this movie.) Trust me, you will want to be here when I have my rage-stroke about Woody Harrelson wearing PAJAMAS to the Paris premiere…