Flex your bitch muscles. It's Emmys time. 
Best Dressed

: TARAJI P. HENSON
gown, purse, and shoes by Alexander Wang
Taraji P. Henson didn't need to win an Emmy to win THE Emmys. She was the Taylor Swift of supportive reaction gifs (except not annoying) when Regina King and Viola Davis won their respective awards, and she looked FUCKING AMAZING doing it.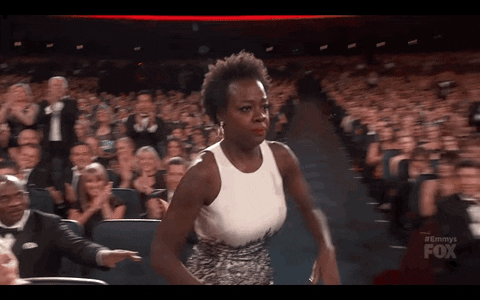 Taraji was an effervescent bubble of joy, like if Glinda the Good Witch flew into the Emmys wearing a chic as hell punk-inspired gown. The dress had lots of trendy elements – the cut-out, the sheer skirt – but the chain straps and badass styling made it utterly magical.
Runner-Up

: JAIMIE ALEXANDER
gown by Armani Privé
I straight-up have no idea who Jaimie Alexander is, and I honestly do not care. This gown is a MASTERPIECE.
Honorable Mention

: CHRISTINA HENDRICKS
gown by Naeem Khan, purse by Charlotte Olympia
Christina Hendricks looked like the Emmys stage itself, all art deco embellishments and freakin' spectacular curves. A fitting red carpet farewell to Joan.
SARAH HYLAND
gown by Zac Posen
I'm always game for a wine-colored dress, and the off-shoulder thing was popular last night. But this dress didn't really wow me until Sarah turned around:
Sexy and weird and futuristic and most importantly, surprising. Kudos, lady.
LAVERNE COX
gown by Calvin Klein, shoes by Stuart Weitzman
It's like the formalwear version of a 90s Sports Illustrated Swimsuit cover, and I mean that in the BEST possible way. She was born to wear this color, and the back of the dress is also fantastic:
That fit is absolute perfection.
ANDY SAMBERG
Look at that textured jacket! Mazel tov, Andy! It felt like a lot of his jokes died in the room, but I actually laughed more than usual. I also find Andy Samberg adorable, so that helps.
JUDITH LIGHT
gown by Zac Posen
Everyone stop what you are doing and bow down to Judith Light, who looks daring but not desperate and is clearly having a blast. She is sitcom royalty and she is WORKING that print.
ELLIE KEMPER
gown by Naeem Khan, purse by Swarovski
I will first note that any and all sweaty makeup will be forgiven and not commented on – it was a hundred goddamn degrees out and everyone was in three inches of makeup. Moving on: this dress is unusual and lovely, but I find myself wishing she'd worn her hair down to soften up the vibe a little. Severe hair with a dress that's all sharp lines can leave a starlet looking vaguely constipated.
REGINA KING
gown by Krikor Jabotian
Simple but gorgeous. I don't really love it on the red carpet, but it looked glorious on TV.
NAOMI WATTS and LIEV SCHREIBER
dress by Christian Dior
Naomi played it safe because she was there supporting her hubby, so I'll forgive her for wearing a bedazzled towel to a major industry event.
JESSICA PARÉ
gown by Monse
There's something a little bit off about the placement of that knot, like there's a creature struggling to break free from Megan Draper's cleavage. But good LORD, is she spectacular in this shade of pink.
DANIELLE BROOKS
gown by Christian Siriano
I would have loved the darker blue shade by itself, but together with the other colors, it is a LOT for the eye to take in. But I'm still coming down on the side of liking this, for its sheer joy and energy if nothing else.
MAISIE WILLIAMS



Arya Stark, you are wonderful. Someday you will look back on those furry shoes and laugh, but pat yourself on the back for that utterly classic dress. With convenient pockets for hiding daggers and shit.
LAURA CARMICHAEL
gown by Erdem
This is a perfectly fine dress, but nothing I can get too excited about. It's the Lady Edith of Emmys dresses, if you will. But it's slightly less depressing.
JESSICA LANGE
gown by J. Mendel
Like I would ever bother attempting to critique this living legend.
AMY POEHLER
gown by Michael Kors
This was actually a disappointment, but luckily, Amy had a spectacular outfit change planned for the evening: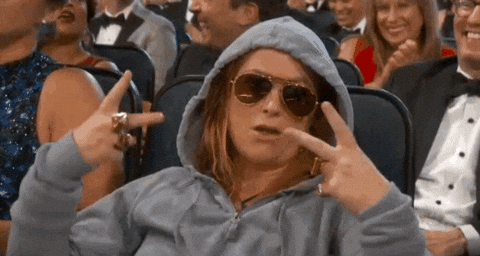 It is a goddamn shame that she never won an Emmy for Leslie Knope, but there is nothing I adore more than a good Amy Poehler awards show gag. (There's an entire chapter in her book about these bits, and it's fantastic.)
MAGGIE GYLLENHAAL
gown by Oscar de la Renta
Even though I was not at all sold on the skirt, I was compelled to not hate this. Which is an achievement for the sometimes-bizarre, often-dressed-like-an-80-year-old-librarian Maggie Gyllenhaal. But then she turned around:
No. I'm sorry. This is not even a little bit okay.
TRACEE ELLIS ROSS
gown by Zac Posen
I'll give her points for risk-taking, but this looks like a small child had a bit too much fun with a pair of safety scissors and a Disney princess costume.
CAT DEELEY
gown by Monique Lhuillier
I'm happy for Cat Deeley and her impending motherhood, but it makes her constant "I'm midway through an orgasm" aesthetic a little bit more uncomfortable.
Worst Dressed

: JULIANNE HOUGH
gown by Marchesa, purse by Jimmy Choo
Is she an Olympic ice dancer whose outfit has been slashed by the blade Tonya Harding's skate? Is she a Victorian-era fussy vampire with a penchant for naughty lingerie? What outrageous scenario can I blame for this monstrosity?
Stay tuned: Part 2 is up and Part 3 will be up later this week, you impatient, greedy, beautiful divas.