The BeyMAs have come and gone, and there is SO MUCH ABSURDITY TO DISCUSS. Taylor's drunk baby gymnast romper! All those "vintage throwbacks" to like 13 years ago! ALL THE BLUE IVY CARTER! 
BEYONCÉ KNOWLES
gown by Nicolas Jebran
Let's begin with the undeniable star of the evening, regardless of whether she showed up in a couture gown or a paper bag – BEYONCÉ. It's not the first time Bey's gone the long-sleeved black metallic gown route this year. She rocked a similar style by Givenchy at the 2014 Met Gala, and by Roberto Cavalli for a performance back in February. But fuck it – she looks amazing, and she's pulling off those earrings even though they're the stupidest things I've ever seen.
Now let's talk about that performance. Someone out there was answering Beyoncé-related prayers last night, because all I wanted was for Queen Bey to perform her entire album during the VMAs, AND SHE BASICALLY DID. And Jay-Z holding Blue Ivy, who was clapping and saying "Good job, Mommy"? My biological clock started ticking out of control and ultimately melting like a goddamn Dali painting. Also, deal with this baby's dance moves:
She's basically like, "Sorry, Kelly Rowland's fetus, but I was the first and best Destiny's Grandchild."
BEYONCÉ KNOWLES
bodysuit by Tom Ford
Girlfriend loves her long-sleeved Tom Ford mosaics! Anyway, this was a perfect performance outfit. The lights reflecting off of it made her look like she was emanating magical sparkles of pure fierceness, which she probably was.
BEYONCÉ KNOWLES
gown by Zuhair Murad
Her Highness hit the press room, having received an award named for Michael Jackson, presented to her by her husband and daughter, and a few other awards as well. Again, she's not exactly reinventing the wheel here, but come on, don't make me say it – she's flawless. Bow down, bitches.
CHLOË MORETZ
top and pants by Louis Vuitton, shoes by Saint Laurent
On television, she looked like the mother of someone on the red carpet, even though she's seventeen. But in pictures, I actually fucking love this. Maybe I'm just old – I certainly felt it during the red carpet, when Adam Levine said he'd been attending the VMAs since the early 2000s, and someone  replied, "You've been going forever!" And when people who aren't old enough to remember the 1990s were waxing nostalgic about that decade. But the detailing on that blouse is exquisite, the pants fit like a dream, and adding a third shade of pink with the shoes was a stroke of genius. The bright colors and lack of skin showing really made her stand out from the crowd on the red carpet.
GWEN STEFANI
top and pants by L.A.M.B., shoes by Christian Louboutin
Serving up punk-rock Barbie realness, which is what Gwen Stefani does best. Hair, lipstick, jewelry, shoes – they're all phenomenal accessories that blend perfectly together. And this outfit is the best thing I've ever seen from Gwen's L.A.M.B. label. She might be old enough to be the mother of half the stars on this red carpet, but she has flat-out refused to age since before these little bitches were born. Go on and get it, honey.
CHANEL IMAN
dress by Balmain, shoes by Casadei
Shutting it the fuck down. All the supermodels featured in Beyoncé's videos (Chanel Iman, Joan Smalls, and Jourdan Dunn) wore Balmain to the event, and all of them looked predictably fucking phenomenal. But Chanel Iman did it best. (Kim Kardashian also wore Balmain, but… well, we'll get to that in a bit.)
JOAN SMALLS
dress by Balmain, shoes by Christian Louboutin
To those who oppose such a complicated mix of prints, I present the Jack Donaghy rebuttal: "It's called 'power-clashing,' and I do it because I can."
KIM KARDASHIAN
dress by Balmain
Her stylist needs to be fired, and not just because everything Kim wears is terrible. But Kim Kardashian, wearing almost the same dress as a fucking supermodel? I mean, we all know who's going to win that fight.
JOURDAN DUNN
top and skirt by Balmain
Rounding out the Balmain-clad Beyonce-video-stars (uh, and Kimmie K) is Jourdan Dunn, who really could have done better. Yes, I know that asymmetrical haircut is on purpose, but her hair stylist still needs to be fired. And how could a woman who is 5'10" actually be wearing a skirt that's too long on her?
LUCY HALE
top by Sachin + Babi, skirt by Zimmermann, shoes by Stuart Weitzman
Adorable and on-trend, and sexier than you think it is at first – look at those little cut-outs in the skirt! Subtle, but surprisingly badass. I think she looks fantastic.
MICHELLE WILLIAMS
gown by Roberto Cavalli, purse by Jimmy Choo
The way this print cascades is fucking breathtaking, and she looks incredible in this silhouette. The eye makeup is veering into drag queen territory, but I adore everything else.
SOLANGE KNOWLES
suit by H&M, shoes by Stuart Weitzman
It's a fucking fabulous suit, but I would have loved to see it in a bright, obnoxious color. Or at least with a different pair of shoes. The Stuart Weitzman "Nudist" sandals are still all over the red carpet, but Solange's particular brand of cool can handle a totally crazy shoe. Particularly with an otherwise toned-down look.
UZO ADUBA, TAYLOR SCHILLING, and LAVERNE COX
Uzo's dress by Alexandra New York
Taylor's dress by Halston Heritage, purse by Edie Parker, shoes by Giuseppe Zanotti
Laverne's dress by Marc Bouwer
The stars of Orange is the New Black looked so fucking glam together, in their slightly coordinating dark metallic dresses. Love Laverne's dress, but wish she'd had more fun with the shoes. Taylor looks fantastic, but she couldn't stop pulling up her dress when they presented an award. And this is a career high for Uzo. Girlfriend is clearly still glowing from her Emmy win.
DEMI LOVATO
gown by Lanvin, purse by Charlotte Olympia, shoes by Giuseppe Zanotti
I like the depth of the plunging neckline, but I think the width of it is slightly off, or maybe just aggravatingly Lea Michele-esque. But everything else about this ensemble is GORGEOUS. It might be a bit too dressy for the event, but I think that's counterbalanced by the neckline and the high slight. Demi Lovato has never looked better.
In other sexy red gown news:
RITA ORA
gown by Donna Karan
Rita looks amazing in this photo, but that slit is DANGEROUS. And potentially illegal. And what the fuck, can't any of these celebrities manage to find a dress that isn't eleven inches too long?
NICKI MINAJ
dress and shoes by Saint Laurent
The sexy snakeskin metallic print lives up to the "Anaconda" name; the disappointingly dull shoes do not. Come on, girl. You fixed a wedgie without missing a dance step and held your dress together with both hands while performing live on television during a major wardrobe malfunction. You and this dress are fantastic; both deserve a WAY more imaginative shoe than that.
IGGY AZALEA
gown by Atelier Versace
When your song is called "Fancy" and you're at the VMAs, isn't this the only thing you could possibly wear? It's shiny enough to remind people of her hit, revealing enough to keep up with the rest of the attendees, and glam as hell. I'd like it better if it had less of a mermaid shape, but overall, I'm on board. Unfortunately, so was Jennifer Lopez:
JENNIFER LOPEZ
gown by Charbel Zoe, purse by Thalé Blanc, shoes by Jimmy Choo
Yes, J.Lo, your body is still virtually perfect. We all know this. No one with a brain would dare to suggest otherwise. But you look so desperately like you're trying to blend in with the 19-year-olds, and you're 45 years old. It's enough already. Oh, and you're actually standing on the bottom of your dress. This is not okay.
KELLY ROWLAND
gown by Kaufmanfranco
I think I would actually love this if it weren't for the seam down the center. But Kelly Rowland is hugely pregnant, still attending awards shows, and dancing along to Beyoncé's performance, so she gets to wear literally whatever the fuck she wants.
LORDE
jumpsuit by Chanel
It's weird. It looks vaguely like Victorian pajamas. And it is so fucking Lorde, I cannot even handle it. And c'mon, even Lorde thinks it's bullshit that she's considered a "rock" musician:
Amazing. This girl restores all the faith in teenagers that the rest of the VMAs attendees made me lose.
KESHA
gown by Johanna Johnson
Whoa. I didn't know Kesha had this much old school Hollywood glam in her. I wish she'd been a little more adventurous for the event, but I guess for her, this is pretty fucking shocking.
ARIANA GRANDE
dress by Moschino, boots by Tom Ford
Even a leather bustier, micro-miniskirt, and thigh-high boots cannot look badass or even grown-up when you pair it with THAT FUCKING HIGH PONYTAIL. Someone give this girl a goddamn haircut. And some elocution lessons, because I could not discern a single word she sang during her decidedly mediocre performance.
JESSIE J
gown by Halston
It's too long on her, and maybe a size too big even with all that draping. The color seems to pop in some lighting and wash her out in others. Overall, not memorable enough for a VMAs performer.
TAYLOR SWIFT
bodysuit by Mary Katrantzou, shoes by Elie Saab
This is the stupidest fucking thing I've ever seen. It's embarrassing even for the VMAs. She looks like a confused five-year-old gymnast. BLUE IVY CARTER SHOULD NOT BE MORE MATURELY DRESSED THAN YOU. Also, this happened: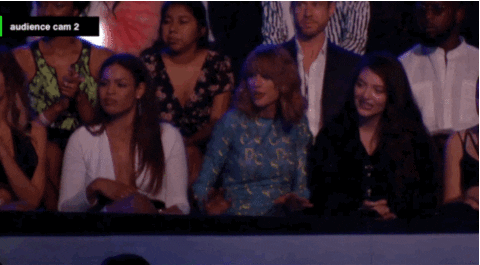 No one should ever let this girl dance, on or off stage. Is she playing cat's cradle with herself? I just can't with her. I actually wish she had worn her performance outfit on the red carpet:
TAYLOR SWIFT
top and skirt by Lorena Sarbu
A modern take on a 1920s flapper outfit? This would have looked AMAZING on the red carpet. But no, she had to dress like a drunk toddler instead.
KATY PERRY
gown by Versace
Katy Perry and Riff Raff (who is apparently a rapper, and not a Rocky Horror character) took it upon themselves to pay homage to Britney and Justin at the 2001 VMAs:
Yes, apparently, 2001 was long enough ago that Katy's look is a vintage throwback. This makes me hate everything. It was nothing but tweet-bait. And if any beauty can be found in the original incarnation of this outfit, it's that Britney didn't wear this dress ironically. This is just what a fucking ridiculously lovable redneck she actually was.
KENDALL JENNER and KYLIE JENNER
Kendall's top and pants by Alon Livné, shoes by Giuseppe Zanotti
Kylie's gown by Alexandre Vauthier, shoes by Gucci
Kendall and Kylie are eighteen and seventeen years old, respectively. Can someone please explain why they are both dressed like post-divorce 45-year-old movie stars?
MILEY CYRUS
top and pants by Alexandre Vauthier
Yay for promoting awareness of homeless youth; boo for plugging her own Facebook page and dramatically wiping away crocodile tears. Also, I don't even remotely remember this look and I forced myself to watch that entire godforsaken red carpet pre-show. I know Miley was on camera, because I remember imitating her ridiculous rasp out loud, but this is just completely unremarkable. And at the VMAs, that's pretty much the worst sin you can commit.
AMBER ROSE
dress by Laurel DeWitt
This was not the only "vintage" (i.e., 13-18 years old, which is ANCIENT for most of this show's audience) VMAs throwback at the event, but it was the worst. Rose McGowan did it so much better at the 1998 VMAs:
2014 Amber Rose vs. 1998 Rose McGowan: it's a veritable battle of the breast implants! Actually, I guess it's a three-way battle, since Marilyn Manson had them too.
—
© Democracy Diva, 2014.
. facebook . twitter . pinterest .